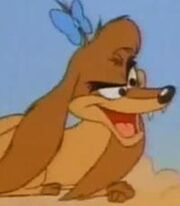 Chainsaw
is
Pete
's dog in
Goof Troop
. A running gag involves Chainsaw tormenting
Waffles
,
Goofy
and
Max
's cat, and she usually ends up chasing him.
Frank Welker
did her vocal affects.
Chainsaw is absent in "A Goofy Movie and "An Extremely Goofy Movie", though it's possible that she passed away as the events of the movies take place after "Goof Troop" ended.